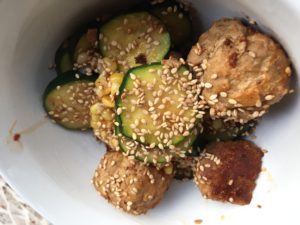 This dinner is fast, easy and healthy. You can use a spiralizer to make zucchini noodles or you can cut them into rounds, which is what I did.
Ingredients:
1/4 cup panko crumbs
1-1/4 lbs 93% lean ground turkey
1 large egg
1 tbsp ginger, minced
1 clove garlic, minced
1/2 tsp kosher salt
1/4 cup chopped fresh cilantro
3 scallions, chopped
1 tbsp low sodium soy sauce
2 tsp sesame oil
For the Dipping Sauce:
3 tbsp reduced-sodium soy sauce
1 1/2 teaspoons sesame oil
1 1/2 tbsp fresh lime juice
1 1/2 tbsp water
1 tbsp chopped fresh scallion
Directions:
In a large bowl combine the ground turkey, panko, egg, salt, scallions, garlic, ginger, cilantro, 1 tbsp of the soy sauce and 2 tsp sesame oil. Gently mix with your hands until combined well. Form into uniform meatballs. Place in little oil in the bottom of skillet. Heat the skillet to medium-high heat and add meatballs. Cover and cook for 15 minutes, gently rotate the meatballs throughout cooking.
For the dipping sauce: mix the lime juice, water, soy sauce, and remaining 2 teaspoons of oil in a bowl. Add the scallions and set aside.
Transfer the meatballs to a serving dish and mix with the zucchini. Stir the sauce, then drizzle the meatballs with a little of the sauce. Serve the meatballs with the remaining sauce on the side.
Make it the best day!
-K