Change is a good thing!
Chances are if you have been working out for an extended period of time you have gotten stuck in some sort of rut. It happens to all of us. You get comfortable with the same movements and weights that you do each week and thus lose the progression factor of your program.
It is important to make changes every four to six weeks and if you are an advanced lifter then it might even be every three to four weeks. We are not saying that you need to change your routine every time you get into the gym. Performing the same routine for a month is beneficial because your body learns the movement and you will most likely see and increase in weight that you can lift. However, it is important to challenge yourself every time you hit the gym.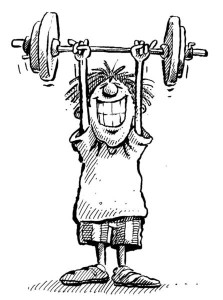 If there is one thing I see often from clients who I train once a week, it is the fact that they don't challenge themselves on the weight when they lift on their own. If your goal is 10 repetitions for three sets and you have done 10 reps for all three sets during your workout (the reps were all clean with no struggling) then it is time to move the weight up. That doesn't mean jumping 5 or 10 pounds. It could just be a 2.5 lb increase. The important thing here is progression! Even little improvements in weight will lead to results throughout the year. That is the goal if you are a regular gym goer. It will not be to have large jumps each session but incremental increases throughout the year. Those will add up to big gains from day one to day 365.
How to know when to progress?
A general rule for progression is listed above. Once you hit all reps for your prescribed sets with good form you should increase the weight. It is ok if you increase the weight on say your dumbbell chest press and then for 2 weeks you can't hit every rep clean, so the weight stays the same. Remember progression is NOT linear.  You might increase in other movements but some might stay stagnant. That might require a little program tweaking to get you over that hump, but you will not increase in every movement, every week, for the entire year.  Don't get discouraged it is normal.
When doing a set when you get to your last rep you should be fatigued. If your goal is 10 reps and you get 10 and think you had 3 more reps in you with good form. Then the weight should be increased. If you stop and know you have more reps you are not challenging the muscle fibers enough and you will not achieve the progressions you seek. When you do your workout, come prepared to work! Challenge yourself and you will very happy with your results.
How many reps and sets should I be doing?
I get this questions very often. The simple answer is, it is different for everyone depending on your desired outcome. The one thing I see often is 3 sets 10 -12 reps. If you choose this path or any path make sure you vary the reps every four to six weeks. Many times people will do 10-12 or 10-15 reps for months on end. Your body has adapted and you need to challenge a different energy system to see more progression. My personal favorite is take clients from that program to a program of 4 sets 5-8 reps. This changes the intensity and volume of the program greatly since you will be lifting heavier weights for shorter periods of time. Don't be scared of heavy weights!! You will not turn into Arnold or Hans and Franz from Saturday Night Live.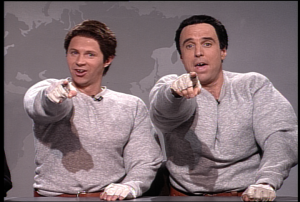 Lifting heavier weights will challenge your creatine phosphate energy system (short term strength system). That means lifting heavier for shorter bouts, which will result in getting stronger and making your muscle more 'solid'. In short there is no perfect sets and reps for everyone. Consult a fitness professional is you need help getting started and they will point you in the right direction. Once you have done that, change your routine by varying the reps and sets. Make sure you lift heavy for certain periods of time, then decrease the weight and hit higher reps then back down again! Make it fun and keep challenging the different energy systems your body uses for exercise.
What are some variations I can do for my current exercises?
It can be tough to think of new movements once you are in a routine. To help you out with that I have listed a common movement and some alternatives to it that will challenge different muscle groups! Feel free to substitute these movements into your routine, just remember to start light and progress up from there!
Bench Press:
Incline dumbbell chest press
Flat dumbbell chest press
Single are flat or incline chest press
Lat Pull-down:
Seated row with a wide grip
Seated row with a narrow grip
Palms toward you lat pull-down
Single Arm lat pull down (use one handle, and one arm at a time)
Pull-ups! Assisted or bodyweight.
Leg Press Machine:
Walking Lunges
Step ups on to a bench with weights in your hands (the higher the bench the harder it will be)
Split Squats with weights in your hands
Pushups:
Weight your pushups with a weight on your back
Change your hand position (wide, narrow, offset)
Those are just a few suggestions for a few movements that are most commonly seen in the gym. There are of course countless variations of movements and ideas out there! Remember to change up your routine and try not to get stuck in a rut.
Little changes lead to the biggest results!
Be creative and if you are looking for something in particular, don't hesitate to contact us!
Thank you for reading this week, it's time to throw a curveball into your routine. Go ahead and try something new!