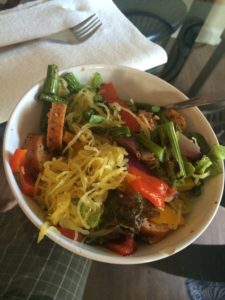 A unique twist on sausage and peppers. A touch on the healthier side with chicken sausage subbed in for pork sausage. There is also spaghetti squash as a base to the dish as well. Feel free to add in anything you would like or sub in and our per your tastes!
Ingredients:
1 pound of hot chicken sausage
1 medium spaghetti squash
Yellow, Red and Green bell peppers
Crushed red peppers (optional)
Extra Virgin Olive Oil
Directions:
Preheat the oven to 350 degrees
Halve the spaghetti squash and scoop out the seeds
Lightly oil the flesh side
Place flesh side down on tinfoil on baking sheet and roast 30-45 minutes until flesh is fork tender
You can make that ahead of time and let it cool before breaking it up.
Have a hot grill ready and grill up the sausage
Lightly rub the peppers with olive oil
Grill the peppers until there is a char around the peppers
Place spaghetti squash large bowl after scooping it out of the skin
Add up diced peppers and sausage
Sprinkle with EVOO and crushed red peppers if extra heat is desired!
Make it the best day!
-K