After a brief hiatus we are back! Given the fact that the weather and the leaves are changing, now is great time for a fall recipe.  This is one of my favorites for those colder days and it won't hurt your waistline.
The list of ingredients looks long but don't let that scare you off, it is pretty simple. This dish is essentially a two pan wonder. Squash is just about to be in season so you should be able to find some for pretty cheap at your local store. For the sausage you can use any kind you would like, pork, chicken, etc.
Ghost curry powder is a new specialty curry powder and it is pretty hot. You can sub this out for your favorite curry and still have a great meal. I would tend to stay away from a green curry as it won't pair too well with the apples. Now let's get cooking!!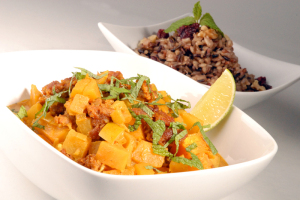 Squash & Sausage Ghost Curry
Ingredients:
1 medium Butternut or Acorn squash (around 2 lbs.)
6 to 8 Tbsp. vegetable oil, divided
salt and pepper
1/2 lb. mild Italian sausage, ground
1 large white onion, diced
1 tsp. fresh minced ginger
1/2 tsp. dehydrated minced garlic
3 Tbsp. or up to 5 Tbsp. Ghost Curry Powder
2 Granny Smith apples, cored and small diced
1 cup vegetable or chicken broth
1 cup coconut milk
1/2 cup apple cider
½ lime, freshly squeezed
2 Tbsp. chopped fresh mint leaves
Directions:
Preheat oven to 400 degrees. Cut squash in half, remove seeds, brush flesh side lightly with 1 Tbsp. oil and sprinkle with salt and pepper. Place flesh-side down on a parchment-lined baking sheet. Bake for 30 to 45 min. until just tender and easily pierced with a knife. Remove from oven and set aside to cool.
Heat 1 Tbsp. oil in a large skillet (cast iron works great) or Dutch oven. Add onions, ginger and garlic, and cook for 5 min. until soft.
In a small bowl, mix an equal amount (3 to 5 Tbsp. depending on desired heat level) of Ghost Curry Powder, vegetable oil and water together to make a paste. Stir curry paste into onions, then add apples, broth, cider and coconut milk and bring to a medium simmer.
Heat 1 Tbsp. oil in a separate skillet, add sausage and cook until browned.
Meanwhile, peel skin from cooled squash and cube into ½- to 1-inch pieces. Stir sausage and squash into curry, bring to a simmer and cook for 5 to 10 more min. Remove from heat and stir in lime juice. Top with fresh mint before serving.
Time saving note: make the squash ahead of time and cube it, so that you can add it quickly to your dish when the time comes. 
You can serve this on top of wild rice or quinoa if you would like. If you use ghost curry using one of these two options would help cut the heat as well!
This meal cooks up quick (after you bake the squash) and tastes great right away. However, for an extra little treat the leftovers provide great flavor. As the curry sits over night it just gets tastier. So make sure you make some extra!
There will be plenty more fall dishes and fitness tips and tricks as we move forward into winter. Stay tuned and thanks for reading!