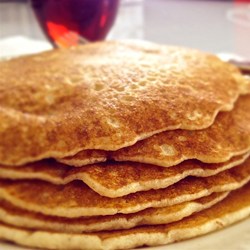 Saturday. A day to get up early, exercise and eat a healthy breakfast without having to rush off to work!
Or….sleep in. Grab some coffee and try to fix that hangover. Whatever boat you are in or even if you're somewhere in the middle here is a great recipe!
It is super easy and only has a few ingredients. What's not to love?!
Greek Yogurt Pancakes
1 c. flour
1 tbsp. baking powder
2 eggs
1 2/3 c. Greek yogurt
Directions:
Combine the flour and baking powder in a large mixing bowl. In a separate bowl, stir the eggs and Greek yogurt, then fold it into the flour and baking powder mixture, forming a thick batter.
Pour batter on a sauté pan and cook over medium-low heat, using a silicone spatula or spoon to smooth out the batter into a 1/4-inch thick pancake shape (since the batter won't spread easily on its own). Look for a the edge of the pancake to start to round out, forming a lip that you can easily slide a spatula under, after about 1-2 minutes of cooking. Lift the corner of the pancake, and if the bottom is lightly golden, slide the spatula all the way under and flip the pancake.
Cook until both sides are lightly golden. Repeat until you've used all of the batter.
Serve pancakes warm with syrup drizzled on top.
Enjoy some healthy pancakes and a great Saturday!
Make it the best day!
-K